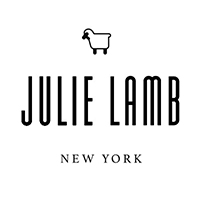 The Julie Lamb brand stands for individuality and encourages the wearer to 'Stand Out', 'Be Herd', & 'Be Ewe'.
The playfully inspirational messages of 'Be Ewe', as well as 'Made in New York by New Yorkers' engraved throughout 'City', speak authentically to who I am and where I'm coming from.
My pieces exude simplicity and craft, with an eye toward merging the traditional skills of master jewelers with new technology.
I have a unique way of looking at things and connecting to the symbols around me, interpreting iconography through my own lens and providing a different point of view, be it a lamb, a stone shape, or the hardware details of the city.